Take a break - BCB5 is here | Friday, November 16, 2007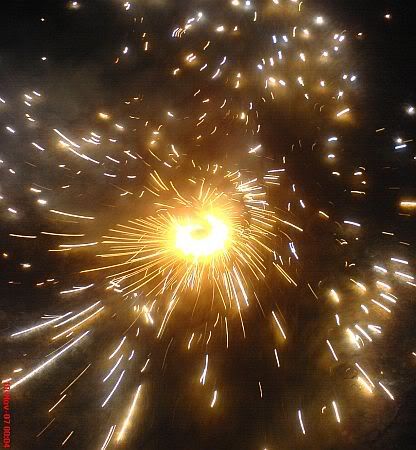 My
last post
was the
100th
one on this blog. I had actually planned to celebrate it in some way or the other here. But couldn't do so in the rush of going home for Diwali. And after returning from home - my blog access is being curbed. Actually, after my last performance review, I was told not to use blogger from office. So, I was posting from friend's place. Used to do just a tiny-winy modification in that from office. But even that is not acceptable in my office, I guess. So, blogger is totally out as of now. I won't be able to post anything here atleast for next couple of weeks. After that, I'm planning get a broadband connection at my home. Nobody can stop me from blogging then. :)
Anyways, here are bits of what I did in last couple of weeks.
[ Continued in
Full Post
]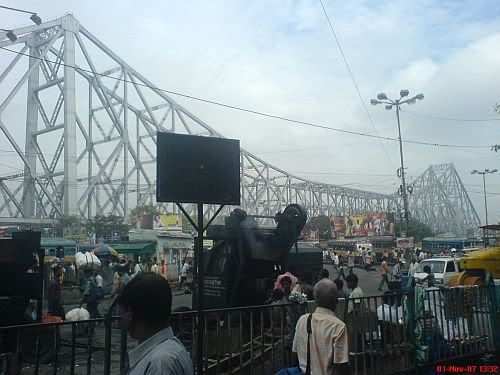 Had gone home for Diwali. Just before leaving, we were given a huge box of crackers from office as Diwali gift. Sadly, can't take it home, as they can't be carried in flight.
Indigo
flight from B'lore to Calcutta was a breeze. Had plans to meet a friend there. But seems that friend wasn't that interested in meeting a 'stranger'. ;) Thereafter, reaching
RPH
was hell lot of a problem. The train which usually takes 4 hours to reach RPH, took 7 hours; and I reached home at 10 PM. :@
Stay at home wasn't that great though. Had nothing to do and school friends were not there at RPH at that time. So, was pretty much locked up at home. Diwali day was fun. Lighting up the Diya s felt so good, just like the childhood days. Meeting up uncles and aunties after so many days was thrilling. So much so that, I just didn't feel like coming back to B'lore. But I had to.
Return journey was another case. It's quite complicated. I took a train from RPH to
Burdwan
, then from there to New Delhi.
Allahabad
,
Kanpur
,
Aligarh
, cities I've heard of but never been to, were en route. Reached Delhi at 10PM. Now, I needed to go to
domestic airport
. But I was kind of scared about night life of Delhi; I mean life on road. I was told that it's quite dangerous to travel in Delhi at nights because of loots, robbery, murder et al. So, I was unsure how to reach Airport. Anyway, I took a prepaid auto. And for the first time, tested the cold in Delhi. I was shaking from head to toe in the auto. When it stopped for refilling at a gas station, I drew out some warm pull-overs from my trolley and saved myself. :D
My flight from Delhi was at 0520 hrs. So, had to wait for 6 hrs at the airport. And, the
GoAir
flight wasn't good either. Though their ground staff is best in the industry [ in the sense, good looking ;) ], on-board staff is total turn-off. Anyways, I took some snaps from my window. But they didn't come out well. :( Reached B'lore at 11. Headed straight to office after freshening up at home. But didn't get a warm welcome. Rather, I was thrashed by manager for not informing him of my late arrival.
Since that day, I'm in a soup; am under constant watch. Blogger, Orkut, GTalk - everything is barred for me; eventhough everyone else is using them. Anyways, I guess I need to prove myself first here. Bring it on.
This morning, I just hit upon the idea of browsing my site of interests on my mobile. So, downloaded
Opera mini
and hit the small highway of www. Browsed all of 'em on my
w810i
. Using GTalk application of
ebuddy
. Interface is not that good, but is working for me for the time being. Checked my own blog. It doesn't look this good there, but yep, it's not bad either. Felt good about that. Opened Orkut also. But sadly, can't read scraps there. :( When I closed my browser, my account was down by 10bucks. Hmmm. Will be careful from the next time.
And, finally - the big event is here again.
BarCamp Bangalore 5 [BCB5] - winter edition
. It's happening this weekend. And, I'll surely be there. Can't afford to miss it after being there on
BCB4
. So, see you there.
Labels: BarCamp, Celebration, Feeling Blue, In My Life
---
---