Marriage ! Made in heaven - Download book | Tuesday, November 18, 2008
Finally the day has arrived - the day when I launch my latest book, the much awaited book form of my most appreciated story series "
Marriage 'not' made in heaven
". Though I had planned to upload the book here immediately after returning from Diwali vacation. But I didn't quite get the time to put everything together. I wanted this book to be special, something more than my earlier books. So, was wandering what else to add besides the main story. And then designing the cover of the book was a big issue. I couldn't zero in on some particular design. After much thinking and head scratching, I designed 4 different covers and picked the 3rd one. The wait is over now. Here's giving you the book, so that you can read it all in one place, even offline.
Download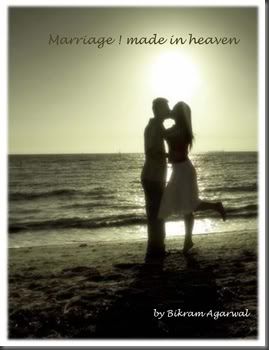 Click on the book cover to see the full size book cover. Click on the download icon on its right to download the zipped book. The zip contains the book in PDF format, some fonts that might be needed and a 'Read Me' file. Enjoy the book. There are some
extra features
in the book, other than the 6 Episode story; for instance - 'Behind the Scene' section and alternate book covers. Enjoy the book.
Synopsis :
For those of you, who didn't follow the story as it was being
published here
- here's a synopsis of the book.
This is a typical story of 'guy meets girl and love blossoms'. But its not really that typical. They didn't meet ever. They were just web friends. Or were they? There was definitely something special about them that always kept them together, inspite of their numerous chat fights. But they didn't think it was love. How can you love someone whome you haven't even seen, right? Then one day the girl tells him that she's getting married. He felt his world crashing down. Next thing he knew was that he landed in her city the very next day, to make her his own. What happens next? Does he win his love? How they fared against all the opposition from parents and even god, who played spoilsport very often. There's a saying that 'Marriages are made in heaven'. But their's wasn't - definitely. Then how did they make it work on earth? Come join the journey of a guy, out to win his lady love.
Ohhh, I'd like to take your opinion about the book cover. So, here are the four alternate book covers. Let me know which one you like the most -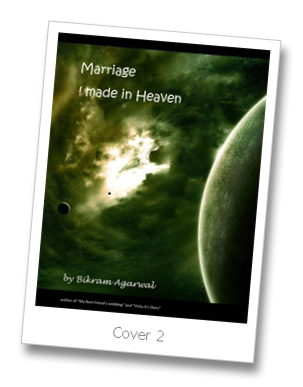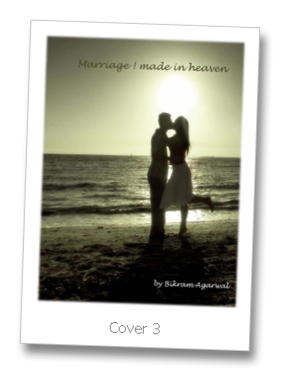 Ok now, go on. Read the book. It took me a great deal of effort in the designing of the book. So, if you like the design and the content, do leave a comment or your views here. I'd like that a lot. After all, its your love that keeps me going here. :) I might write a sequel to this story. Just keep a watch here for updates. For the time being, Adieu.
Related :
You can find my previous books for free download
HERE
.
---
---