Marriage : 'Not' made in heaven | Tuesday, May 06, 2008
This is part 3 of this series. Read the previous parts -
Episode 1 : Jab We Met [Online]
Episode 2 : Be my (L / W) ife
Episode 3 : The Rendezvous
That was the very first happy day of rest of my life. That was the 1st day I knew for sure that someone loves me; that there's someone whom I can call mine. But still, there were some hurdles, some 'aag ka dariya' that I needed to cross to attain her. All through my adolescent years and during college - I had dreamt of this; that I'll be in love with someone, but everybody will oppose us and I'll fight the whole world to win my lady love. I thought this will be heroic and sooo romantic; knight in shining armor rescuing my princess. But, now that the moment had really arrived, that childish fantasy feeling wasn't there. Instead, I had this mature feeling that now a new life is connecting with me. I didn't feel heroic. All I cared about was her.
I booked the first available flight next morning and set out for her. In flight, I was having all kinds of weird and excited and tensed feelings. How am I gonna recognize her, how's she gonna receive me, her parents, what's we gonna do etc etc. I won't say I wasn't terrified. I was. I was terrified at the prospect at messing it all up and loosing her in the process. Whole flight, I just prayed and prayed that everything goes down well. Damn, the flight was taking too long.
[ Continued in
Full Post
]
Upon landing, finding her in the crowd of people waiting at the reception area was my 1st concern. How am I gonna find someone whom I've never seen. As a last resort, I can call her or maybe she's holding a placard like some others, which I find quite funny nd irritating sometimes. But nope, I didn't see any placard with my or her name on it. To get me more confused, there were atleast 30 - 40 girls my age there, quite a few of them eying me. Is she the one.....?? No, she thinks I'm lost. Her....?? Ohh, she's receiving her dad or uncle or whoever. Oh, I think that's her; the girl waving at me.. Hii....... iiiiisss. Com'on, how can I fall for this? She was waving at the guy just behind me. She ....? Her ....? That Gal ....? This .... That's her. Found her. The most beautiful girl among all of them.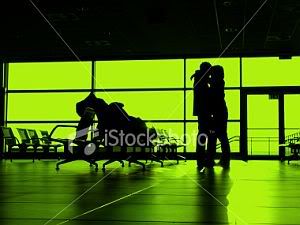 Ok, that's an exaggeration. :D Still, for me, she was THE most beautiful girl there, as she was looking at me with all the love of the world in her eyes. I realized she was following me with her eyes all this time. I needed no introduction. The moment I saw her, I knew it was her. I couldn't take my eyes off her. I let go off my baggage and spread my hands, ready to embrace her. She walked towards me with increasing pace and suddenly broke into a short run and lunged at me. I held her in my arms and took a 360 spin. We both held each other in close embrace, looking deep into eyes, feeling the rush of the moment. Our first meet, first touch, first hug.
Later on that day, we were walking on the park side. She was walking by my side, clutching my hand, her head lightly resting on my shoulder. I wished that we could go on like that for ever. She hadn't talked much since my arrival. I knew she likes to let the 'eyes talk', but com'on yaar - say something to me. And she said "Take me away from here, far away - with you". I told her that I was gonna talk to her parents 1st and ask for their permission. She was dead against it from the start. But, at last she also believed that she must give them a chance. I told her how to break the story at home and what she needs to do. Gave her lotsa courage and never let her feel alone in all these. She never let go off my hand even for a second.
That night, she told her parents about me. They didn't take it so well. There was catastrophe. she was virtually held up in her room whole of next day. She persuaded them and gave them time to think. At last they agreed to meet me. She was happy, for the time being. 'Coz she never believed that her parents would even grant me a visit. She gave me a call, all excited, and asked me to come over the next day. She was giving a lotsa tips about what her parents like n dislike and such stuff. I heard some, missed many. I was just absorbing the excitement and happiness in her voice. Tomorrow was the big day - Meeting the parents.
I reached her home on time. I was drop-dead afraid, standing on her porch. I was sweating in winter. Her cousins took me to the living room. They all were askin me lotsa question - how we met, what we intend to do etc. They were all sport and helped me get at ease. But the moment her parents walked in, I was shaking in my shoes again. Her dad's killing stare or mom's despising gaze weren't helping either. But then I saw her behind the curtains, trying to give me confidence, even though she was afraid herself. There was this mix of excitement, expectation and fear on her face, all giving her a face pink tint. There were lots of hopes in her eyes and her lips were quivering. I knew I got to do this, got to win her. All my fears and inhibitions were gone and I faced her dad with determination.
But, let's just say - it didn't go that well. Long story short - they had agreed to meet me - just for the heck of it. To show her that they met her demand, saw me and didn't find me suitable. They had no intention of giving us a fair chance. When her dad finally said "Stay away from my daughter", she came out from behind the curtain and protested. There was this verbal brawl, which was terminated by her dad slapping her. She was in tears, tears of contempt, sadness, anger. That broke me. I knew I got to take her away from there. Our option A had failed. now it was time for option B. We paid they our respect by asking for their permission and blessings. Now it was our turn to make our own way. Our option B - Elope.
[ To Be continued ... ]
---
---