Marriage : 'Not' made in heaven | Wednesday, April 30, 2008
Episode 1 : Jab We Met [online]
Aaah, what a lovely morning it is. Been waiting for this morning ever since I got married to her. For today is our 50th wedding anniversary. I look at the beautiful angel so peacefully sleeping beside me, calmness reigning over her glowing radiant face, still a bit pinkish with all the blushing of last night. She's smiling in her dreams, maybe seeing me. I feel blessed with her around. When every other relation is falling apart all around, we've sticked together for so long and going strong everyday. It's not just love or companionship, that keeps us together. I donno what it is, but we are just inseparable, like breath and soul for each other. They say marriages are made in heaven. But ours wasn't. In fact, we were not meant to be together. Still, we fought with the almighty against all odds, stood with each other holding hands firmly and made our own little world our heaven.
[ Continued in
Full Post
]
When I say we weren't meant to be together, I mean it literally. God played all the tricks in his sleeve to prevent us coming together and later, to separate us. I found her in the most unconventional way. It was the blogsphere where we met first, virtually. I just randomly landed on her blog, read a lovely poem and left a comment there. She thought it was someone she knew. So, she approved the comment, but still, to confirm his identity, she pinged me over the chat. Turns out, we were total strangers to each other. Still we exchanged our Orkut profile links. I found out that she was already talking about me with another friend of her. I checked both the scrapbooks to see what the conversation was. She got a hint of this snooping and confronted me. I defended myself as I didn't think that I did anything wrong. That's how it all started - with a fight.
Later on, we were chatting and mailing like anything. But our timings never accommodated that. Whenever she was online, I was off and vice versa. Still we made it point to reach out to each other every single day - by mail, orkut, blog comment et al. I'd stay back in office late-night so that I can meet her online and she would go online early mornings for the same. Yet we weren't a couple. In fact, we were madly trying not to fall in love. She won't give me her cell number, won't send any pic, would say how her parents can fix her marriage any day. I on my part, was trying to take my attention off her by concentrating on other girls here.
Ohh, this HR is so cute, I can date her. Girl next door seems interested. We can go out.
I tried to be an average spoilt guy - dating girls and not serious about a thing. But no matter what I did, at the end of day everyday, I thought about her only. Later on, she also started doing the same. She'd tell me about her latest crushes. I thought that she's just teasing me, which she loves to. But I used to get upset after such conversations. I got my unfair share of sleepless nights. All night I'd think what's happening to me.
I can't be in love with her.... I haven't even seen her. One couldn't be in love with a person without seeing him / her. It must be jealousy.
. Am I in love?
Then one fine day, she gave me her cell number - at last. She woke me up that morning with the sweetest 'hello'. Guess I was reborn that day. We were now talking, chatting and SMSing like anything. By this time, we were acting boyfriend - girlfriend, virtually. We would sing to each other. I loved to call her 'Shona'. So, 'Hey Shona' was our love song. I recorded this in my voice and mailed her. She used to listen to it all day. That very thought used to tickle me all day. She loved all the songs I loved. Every other day, I'd tell her how I'd like to spend the rest of my life with her. We'd talk about possibility of love brewing up between us, live-in, marriage, life after that, our kids et al. But everytime, at the end she'd say that she won't marry me. :( Broke my heart. All this under the wrap of 'casual kidding and teasing'. No one would actually say how much we loved each other. I wished we could really consider all these. At least, I wanted her to know that when I say that she's the best thing to ever have happened to me, I really mean it. But she didn't understand it then. We were merely playing hide n tease. Then one fine day, she called me up and said "My parents have fixed my marriage and I'm getting engaged next month".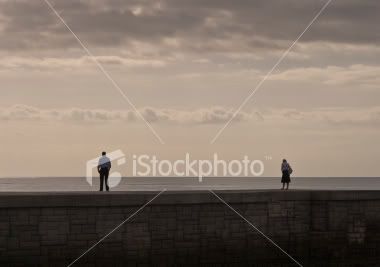 [ To be Continued ... ]
---
---