My current obsessions | Thursday, March 06, 2008
Now a days, I'm obsessed with four things - Movie, Game, Serial and Internet. Well, guess everybody is obsessed with these to some extent. Let me tell you about what I'm doing these days.
Movies
Am downloading lots n lots of movies. On an average, I download 1+1/2 movies everyday. If you remember, last time I told you that I have
51 Downloaded movies
. That was 2 months back. That number has doubled by now. So, I'm having a monstrous collection of movies now. So much so that I can watch 2 movies everyday for a long time. Oh, if you also want to download free movies - the 3 most advisable sites are -
Amader Forum
,
Rapidshare Films
and
Mastiland
. These sites provides all sorts of downloads [games, apps etc] besides movies.
[ Continued in
Full Post
]
Games
Before this, the last time I played hi-def games in computer was back in 3rd yr of college. At that time, I was completely drowned in
Prince of Persia
- 'Warrior Within' and 'Two Thrones'. What I really liked about this game is - 'free form fighting', appealing storyline and great puzzles. It was unlike any other game. We two friends would play this whole day. But later on, my PC got old and it won't support the new breed of resource hungry games. So, I couldn't play the new games on my PC. Even a light-weight game like Max Payne 2 was running like a slug. So, I thought my gaming days are over.
But ever since I got my new laptop, the dream has come alive again. Already installed some 3 games -
NFS Carbon
,
Cold Fear
and
Quake 4
. None of them are new. But still, for me, they are as I haven't played them. Am not playing much of NFS carbon as all u do there is race cars and evade cops. Only plus point is - the pursuits are tougher in this version than 'Most Wanted'. Cold Fear is boring after a certain amount of time due to its repeatative gameplay and non-linear structure. Am presently stuck at one level and don't know where to go to complete the current objective. The whole gameplay area is open and I may end-up in south end when I need to be on north end. Even walkthrough guides available are not helping. Installed Quake4 very recently. But am hugely disappointed. There's just no challenge in this game. Every enemy dies very easily. And if you don't wanna bother yourself, your co-marines will finish off them for you. Except for some areas, you can finish the game simply by moving from one place to another, while the co-marines clear the ground. Too boring.
Another couple of games that I have, but haven't installed yet -
FEAR
and
Call of Duty 2
, both again similarly old games. I have high expectations from F.E.A.R. The trailers were promising. I concluded
Vista REALLY sucks
while trying to install this game. Downloaded 'Virtual CD' today. Let's see if this works on Vista. Another game that I'm eagerly waiting for is
Assassin's Creed
. When it was launched, the PC version wasn't available. Only yesterday I got to know that now it is available. So, I'm gonna get myself the DVD this weekend.
Serials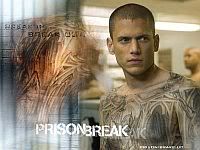 Noooo, not the boring Sans-Bahu family sagas. What I'm talking about is -
Prison Break
. It is a great adventure / drama series. The story revolves around a man who was sentenced to death for murdering the brother of US Vice-President, a crime he did not commit and his brother's elaborate plan to help him escape his death sentence. The story is really fast-paced and gripping. Finished the 1st season just yesterday. Complete 2nd season is in my possession, while friends are still downloading the 3rd season. 4th season is in the making. The last US sitcom that I liked was FRIENDS. Some other sitcoms that I'd like to watch are OC, Lost, 24,
Sarah Connor Chronicles
.
Internet
After getting my laptop, I've been desperately looking for a good ISP. Okies speed won't work for me. I need at least 256 kbps working speed. But that's quite a rarity here. Add to that, there's a lot of confusion, what with so many available plans. I'm also juggling between a fixed Broadband connection and a wireless connection for laptop. Even after month-long brain storming, I haven't zeroed in on what I want to have. Totally confused. If you can provide me any guidance here, please do.
Okay. That's enough for the day. Let me get back to my obsessions. U have a great day. And, leave your views, suggestions, tips as comments.
Labels: In My Life, Technical
---
---