Review : Oscar Movie nominees | Wednesday, January 23, 2008
Seems I can't keep myself away from movies these days. And thanks to my new-found movie sharing sites, I'm watching atleast one movie everyday. Just as I told U in my last post that I'm having 51 movies on my HDD. Some of them aren't even released in India till now. And this morning I came to know that 3 of them are actually nominated for 'Best Film' in this year's Oscar Awards. They are 'No country for old men' , 'There will be blood' and 'Juno'. [ Check the full nomination list
here
] This makes me wonder - don't I have a taste or what?
[ Continued in
Full Post
]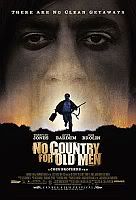 I haven't seen Juno yet. The synopsis of the movie seems good and I'm gonna watch it tonight. But the other two movies - they just suck. First I watched 'No country for old men'. The first frame itself gave me an impression that it's gonna be a real slow movie. And after watching the 'highway murder using blow pipe' [or something like that], I was pretty much sure that this movie is gonna gimme some headache. And wasn't I right? Couldn't bear the movie for more than 45 mins. Within that time, I was bored to death. Deleted it then n there.
There will be blood was a tougher nut. It's frame rate was even slower than the last one. That explains it's runtime of almost 150 mins. Another huge headache. On my patience test - it lasted for 35 mins. Just couldn't bear it any longer. I just quipped then - 'This movie is worth a Oscar'. And, wow. It's really nominated for the same. Irony. More of it - both these movies have got nominated in some 7 / 8 different categories. Weird.
It's always been like this. The movies that are highly acclaimed are the worst I've ever seen. Biggest example being -
Black
. This movie created such a tremor nation-wide. Everyone reacted as if this is the greatest movie ever made. But frankly, I was on the verge of tearing off every single hair on my head while watching it. Some mental movie.
As I've always said - critical acclaim should never be your reason for watching a movie. Critics are just a bunch of retards. Maybe, my taste is not as good as them or I don't have enough Grey cells to understand the beauty of such movies. But then, if I need to utilize my brain while watching a movie - what's the use of it? I mean, movies are meant to entertain us, right?
Labels: Entertainment
---
---