I Am [ Legend ...!!? ] Jhand | Monday, December 17, 2007
This one is gonna be a movie-review special, as I did watch a lot of movies this week, most of them in the weekend. Well, technically, it's not gonna be a 'review' review; but my personal opinion on these movies. Just a few points that I'd like to share. All these are not latest movies, so am kinda late for a 'review'. Hence, I'm not gonna use that word. Let's begin.
Pursuit of Happyness
. One movie that I heard a lot about and wanted to watch it. Heard it got oscar for something, that Will Smith gave his finest performance in this. Honestly saying, I don't really care about what award a movie got or what critics have got to say about it. On the contrary, I just get bored while watching the 'Best Movie' of Oscar. They just fly above my head; as it does with most of us, I believe. Anyway, I was keen on watching this one 'coz of Will Smith. That man has got some real acting talent. Finally got the DVD this week and watched it last thursday. And was I satisfied after finishing it?
[ Continued in
Full Post
]
Well, in a word, it was just OK. I'm baffled what all this big talk is about? It's just another run of the mill movie; a typical bollywood sob story; how a man fights for his family, a living and makes it big one day. What's so great about it? The same story's been told several times earlier. You can anyway choose to watch this movie for the rare look of WS. U know, not the usual six pack dude look U get of him in his other movies. He's just a normal struggling guy next door, with a vulnerable face and some sort of desperation. You'll identify with him, but would wish that U aren't in his position; but when he gives some witty answer or succeeds in the final frames, U'd see yourself in him. I specifically liked the scenes where he gets his job confirmed and says - "This part of my life - is called - happyness".
Next movie -
Rumor has it
. I had never heard anything about this movie. Took it's DVD just 'coz it had Jennifer Aniston staring at me from it's cover. :p I had earlier bought the entire Friends series DVD just 'coz of her. Actually, I started watching Friends 'coz of her, but then gradually started liking everything about the sitcom. Anyway, sadly I didn't come across many movies of her. There are just a very few, I guess. So, didn't want to miss this one.
Well, this one also was just OKies. Unusual story about a girl trying to find her real identity who evidently ends up sleeping with the man, whom she suspects to be her real father, who had earlier slept with her mother and grand mother as well, thus continuing 'family tradition'. Creeepy, huh? Apart from this, there's nothing special to talk about. Even Aniston disappointed me. She didn't look good enough in this one. Now I'm not sure whether I'd like to watch 'Break Up' just 'coz of her. Even Mark Ruffalo gave better performance than her.
Bhool Bhulaiyaa
. Aaah. One of the most talked about movie of this year, one that gave the no.1 chartbuster song. Being a Priyadarshan - Akshay Kumar movie, I too had big expectations from this movie. Vidya Balan was an added Ooomph attraction. After finishing the movie, I was like - "Am I destined to watch only OKies movies this week ...??" There's nothing good about this movie, except for maybe the 'HareRam' song which is played at the end, when credit titles roll. What were they trying to make? Comedy, horror, suspence or psycho thriller? It all got jumbled up and at the end, You are left wondering what was this about? Thankfully, there wasn't a running chaos scene for climax, as is usual in a Priyan movie. Think of Hera Pheri, Hulchul, Hungama, Bhagam Bhag, Dhol [can't recall the name of rest of his movies] - climax of every movie had this chaotic scene where every single actor of the movie is chasing someone or is being chased, creating one hell of a chaos. Thanfully, I didn't have to bear that in Bhool Bhulaiya.
Performance wise, Vidya Balan is good. Shiney is over-rated as always. Akshay is now getting boring with constantly doing the same gags. Rajpal Yadav and Paresh Rawal are totally wasted. The best thing about this movie was perhaps - Amisha Patel. She looked really stunning even in normal day to day clothes. One scene where I almost died out laughing was when Akshay draps the saree of Paresh's wife as Dhoti and then is talking to Amisha while Paresh's wife is reacting to what he said, thinking that he's hitting on her.
Yesterday I watched
'I Am Legend
' at PVR. I actually had a lot of movie options to choose from - Hitman, Beowulf, Superbad, Dus Kahaniya. But I picked this one 'coz of Will Smith. The movie poster was impressive. A lone man and his dog, with a runies of a city and a broken bridge in the background - that was appealing to me. The catch-line "The only surviver is not alone" was just passe. Anyways, this movie was a total disaster, not even OKies. It was just carrying forward the Resident Evil crap, minus smokin Mila J. Those roaring zombies gave me a splitting headache. Some comments flying at the end of the movie - "That Dog Samantha acted well" , "Legend, my a**. This must be called "I am Jhand [crap]".
Next movie -
Speed
. Not the Keanu Reaves movie, but the Bollywood one, just to kill time. The name is used just to confuse you. It's a poor blatant copy of 'Cellular', just as 'Qayamat' was of The Rock, typical Baweja thing to do. A miserably disgusting movie. If you're anyway opting for it to watch Tanushree or Amrita or Sophia sizzling on screen, you're gonna be disappointed again. They are virtually non-existant here.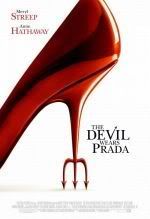 Alright, enough of crappy and OKies movies. Now couple of nice movies that I watched. '
Devil wears Prada
' and 'Thank you for smoking'. Devil wears prada is a great time pass. Meryl Streep playing Miranda is just mind blowing. She's playing this 'Editor in chief' of fashion magazine Runway and looks every bit of it. She can give every mid-age lady and even some fresh faces a run for their money. She makes you hate her and reminds you of your boss. Great work. Anne Hathaway, playing the rookie Andrea gets into the character like a second skin. Even with her Donald duck looks, she looks impressive. And even Emily [played by Emily Blunt] leaves a mark with her nagging and oh, she's hot. ;) Even during her 'incubus of viral plague' scenes, she looks cute with her red nose tip. :$
Watched '
Thank you for smoking
' fresh off the bed this morning. I had thought that this one is some documentary on ill effects of smoking. But thankfully, it was a great comedy [ dark comedy, perhaps ]. You'll never get bored watching it. If nothing else, it'd atleast teach you a lesson or two in communication skills. Nick Naylor is just one hell of a lobbyist. The way he plays with word and makes a wrong seem right, it's just spell-bounding. You wish you could do that. His final words in the movie - "Michael Jordan plays ball, Charles Manson kills people. I talk. Everyone has a talent". Ata Boy. Surprise package of this movie was Katie Holmes. Tom Cruise is a lucky man. :D
Labels: Entertainment, Review
---
---