How much can you love? | Tuesday, December 04, 2007
As you might know
, I've got a new hard-drive for my PC; so that I can give the existing one some breathing space, as it was already overflowing. So, this morning I was deleting now-old songs that I never listen to. Deleted almost 100+ songs. And then I came across this song, which was one of my favorite once, but was forgotten in the midst of new rocking songs. And along with it came old memories.
[ continued in
Full Post
]
The song in question is - देखिये किस कदर हमको तुमसे प्यार है, from the movie -
मेरे जीवन साथी
, starring Akshay Kumar, Amisha Patel and Karishma Kapoor. Listen to the song below -
Check out the lyrics -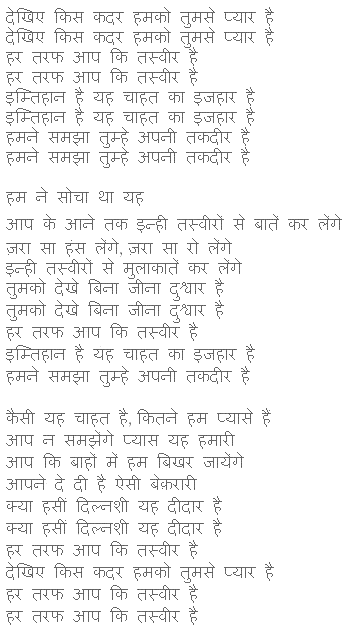 When I had watched this movie, it had left an impact on my mind eventhough the movie wasn't that good. The climax was brilliantly shot. Specially, Akshay emoted so well in those final scenes, that I just felt like him, felt his pain.

If you haven't seen the movie, this is what happened in it -
Karishma is the boss of the company in which Akshay works. Karishma loves Akshay, but he is already engaged to Amisha. Still, Karishma tries too woo him; sometimes typically crossing the limits of tolerance. She did love him from the core of her heart. But when she realized that she can never have him, she ends her life. The climax scene - Karishma is dying and Akshay & Amisha are there - helpless at the realization that it's too late. Akshay completely breaks down and cries hysterically. The guilt of causing someone's death has taken him over.

I haven't seen such touching love-suicide scene in any movie. We all love our life more than anything. But sometimes there's another love which is greater than this. We try to achieve it at any cost; but when we fail, it's not only the beloved that we loose. We loose the love for own life. That's when we think of ending own life.

Very lucky are those whom someone loves. Luckier are those, for whom their beloved can lay down own life. But if they really do, that's the most painful experience. It's more than a heart-break. Someone gave his / her life for you - can anything be more traumatizing than that?
Labels: Feeling Blue, Love
---
---