Review : Welcome Resident Evil | Tuesday, December 25, 2007
Two movie reviews for this week. Well, unlike last time, this time around you can call them 'reviews' as the movies I'm gonna talk about aren't that old. In fact, one of them released just this week. The two movies are -
Resident Evil : Extinction
and
Welcome
. Luckily, both these movies were more than just OK and somewhat fabulous. Saw some other movies also, but they are not worth a mention here. Let's being.
Resident Evil : Extinction
. There's a saying that movie sequels never work. They are always inferior to their predecessors. There are just very few movies that were able to prove it wrong.
Terminator
and
Bourne
are the only two that I can think of right now.
Matrix 3
was the biggest disappointment of all times.
Lord of the Rings : Return of the King
was supposedly the best 3rd part of a trilogy. And now there's Resident Evil [RE]. Really, it is RE = Reply to all those critics who had ripped apart earlier installation of this Screen adaption of the computer game by the same name. Resident Evil 1 was a good one. Though part 2 lacked the chill, it was worth a watch. But to better that and all things till now, here's RE3.
[ Continued in
Full Post
]
The movie starts with the usual escape bid of Alice, which turns out to be her clone. She's now a sophisticated human weapon with high-psychological abilities and can control things with her mind. A little bit of supernaturalism, huh ...?? Anyways, the story doesn't make much progress this time. All you get is - Alice destroys Umbrella Corps' American facility and is on her way to the headquarters [next movie], along with lots n lots of her clones. She now knows that her blood is the cure to virus spread. 4th movie seems highly promising.
Things to watch out for in this 3rd installment is the awesome action sequences. The best one is when the convoy of survivors reaches Vegas. Can't describe it in words. Just edge of the seat, breath-taking action. Mila gave a great performance. All those maneuvers and free form fights reminded me of Prince of Persia game. Specially the Twin blade throat cut is Wow. Check some snapshots below.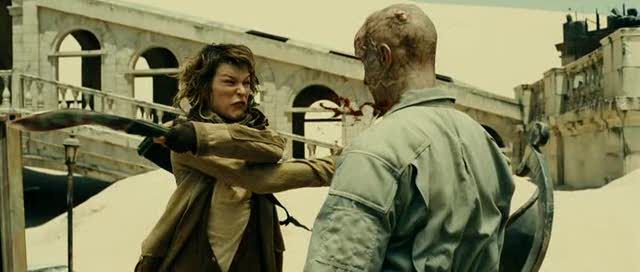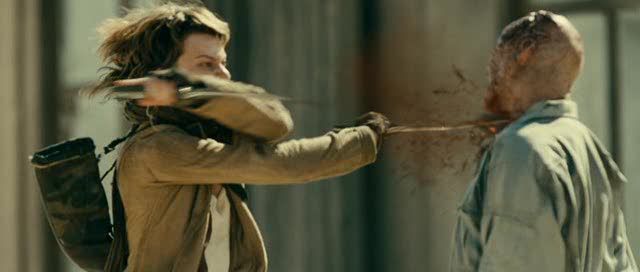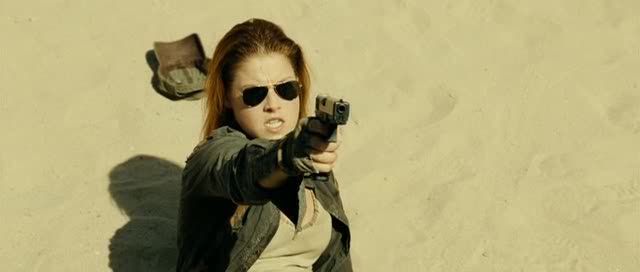 [ Click photo to Enlarge in new window ]
And oh, the cinematography is just beautiful. Some great camera work and visual effects and every frame of the movie just comes alive. Never knew it'd look so good even when the world is a barren land. :p Go watch this movie - theater or get yourself a DVD.
Ahh.
Welcome
. Another comedy crapper of Akshay Kumar. He's now so adapt to these roles that he almost sleep walks through out the movie. He's became repeatative. Still, he manages to make us laugh. But, how many are having hearty laugh and how many are laughing just for the heck of it, is doubtful. I mean, some people in the theater were laughing their heart out even on lousy jokes. Akshay is like the new king of comedy for the masses and not laughing to his jokes is like dis-respecting the king. So, laugh anyway. Secondly, people don't want to be disappointed by a Akshay Kumar movie. So, they console themselves by enjoying every possible 'funny' scene. Thus, Akshay is now a safe bet for any producer. Public will make sure that his movie is not a flop by saying 'Wah Wah' even if they didn't really like it.
That said, let me tell you that Welcome is not a bad movie either. It's good for time-pass. And if you're watching it second time, it's gotta be for Katrina Kaif. She's hot like hell and more pretty than ever. There's not even a single frame where she's anything less than an angel. Anyways, the movie. It's again copy of some Hollywood movie, [Forgot the name]; just as all Nadiadwala movies are these days. It's full of forced comedy, with just a few exceptions. Whilst the 'stirring in hand' road accident scene was 'forced', the 'crematorium' scene was really funny. All that confusion surrounding the dead body was really situational comedy that makes me laugh. Climax was again very cliche' with all the chaos. I just hate that 'life in balance on edge of cliff' formula. Firoz Khan is totally wasted here. Nana gave a few nice performances. Don't have high expectations. Go watch this movie just to relax.
And, some off-topic [non-review] observations here. We watched Welcome in Rex theater. It's a blot on the face of Brigade Road. Even my little home town cinema hall was better than this. Still, Rex makes a huge profit every week; thanks to it's location and seat-availability. Situated at the prime location of Brigade road, the heart of the IT city, and surrounded by so many MultiNational retail-chain marts - Nike, McDonald, CafeCoffee Day, Pizza corner, Barista, Planet M and many many more. The biggest crowd puller of the entire city. If anyone wants to see a movie, the nearest option is Rex. Though Inox [@ Garuda mall] is not very far, tickets for current show is rarely available there. Thus, Rex is doing a brisk business, even-though it lacks in service quality.
Moral of the story : It doesn't matter who you are or how u are. What matters is - where you are. :)
And oh, I went to Rex almost after a year. Last time, I was there on my B'day with some friends - watching Dhoom 2. That was one of the most happy day of my life. While watching 'Welcome', I was remembering that dear friend who got separated by time and distance. Some memories - die hard.
Anyway, one more movie that I watched just today is -
Saawariya
. This movie was among the most eagerly awaited movie of the year; but when it released this Diwali - all the critics just ripped it apart. I didn't get a chance to watch it a until now. And, am I again angry on those headless silly critics? :@ This movie isn't half that crappy as it is made out to be. In fact, in some sequences, it touches the heart. Specially the climax. Every one can identify with this, remember their 1st broken heart. Maybe all the sets look artificial n stuff, but still the movie doesn't deserve the bad treatment it got. I atleast loved this movie. What do you have to say? Cast your opinion in the poll alongside or leave a comment.
Labels: Entertainment, Poll, Review
---
---