My Best Friend's Wedding | Wednesday, August 15, 2007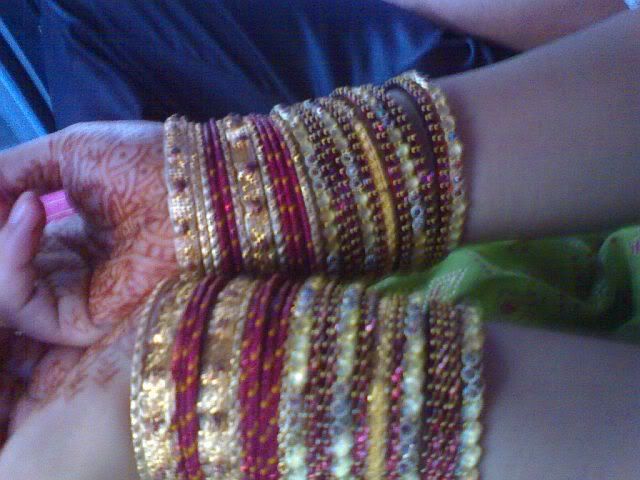 Aaj mere yaar ki shaadi hai. And what a day it is ...!! For a start, it coincides with the 60 th independence day of India. Not a big surprise though, considering that the engagement was held on 1st of May, another easily distinguishable day. Guess it'd be easier for them to remember their anniversaries n all. :)

But anyways, it's not the dates that I'm excited about. The main event itself is so much exciting and dream-like for me. It's like some fairy tale, some twists and turns, dreams shattering and then coming alive. And as it's my Best Friend's wedding, it has an happy ending; just like the candy floss Bollywood movies.
[ Continued in
Full Post
]
Our friendship was no less than a Bollywood flick either. It all started a year ago, during my 4th n final year in College. Can you believe that..? All these years we've been studying under same roof and not known each other...!! Well, technically there are couple of mistakes in the last sentence. My class was on 2F - 2nd floor while her was on GF - ground floor. So, technically not under the same roof. ;) And although she didn't know me, I was aware of this chasmis [not the Einstein, but Naina kind] bubbly gal. Had seen her here n there in campus and known her name through friends in her class. But never talked to her or saw her more than a few secs. She was always mobile.
We first struck up @
Orkut
. A few scrap exchanges and I had shifted to Bangalore, as the college term was over. Those were some awful days.
Sowmya was getting married
and I was struggling in Bangalore to get a job. Only thing that was like breeze of fresh air back then was SS.
My 1st letter to her was on 29th June when I was back in shimoga to wrap up some pending formalities. Now I'm not a Subodh of
Dil Chahta Hai
who keeps clinging to his calender. I can point the date 'coz I just went through my saved mails and saw that. So, I was saying ke our bonding took time. I had asked her
"Hi Sweetu, Can I call u by that name; it's chhhooo chhweeeet"
to which she had replied
"Don't call me by Sweetu. I can't give you such leniency :p".
[Auw my Gaud....!!!!]
. My flatmate Shekhar was her batch-mate and I guess she had this impression that I was like him only. well, that was then. Now I call her
Shona
and she's all sport for it.
Ok, back to some flash back. She was apprehensive at the start, as usual. She used to get alarmed too often. When I had asked
"Your cell no. is same or changed?"
she had replied
"I never remember having given you my cell number".
Hey, I wasn't tricking her into giving me her number. I really already had her number. And even today she doesn't know how. :D
Anyways, she was helping me to get over my grief for Sowmya and also assisting me in my job hunt. She still hadn't told me her nickname, so I coined '
Tube Light
' for her. She used to fathom things a bit slowly. Once I wrote a mail to her in which I was sounding like a poster praising itself boasting of my achievements in college. She got it all wrong and wrote me a long consoling mail, describing her long struggle for job. Well, that was so cute of her. It did make me forget my worries and as a bonus, I got to know more 'bout her.
It wasn't all smooth sailing though. There was a time when it felt like downpour. One day she SMSed me about a guy who's disturbing her too much.
"He keeps msging me and tells me even trivial things. Acts like a chipku. I can see he's trying to get close which I'm not liking."
That was the biggest shocker for me. All that she described somehow matched me. Though she kept saying
"it's someone else"
, I had this intuition that she was referring to me - subtle indication - and was immensely disheartened to realize that she thinks of me that way. I stopped communicating with her altogether.
She, possibly unaware of what she had done to me, continued with her usual dose of SMSs and calls. And before long, it was impossible to remain angry with this innocent barbie. So we were back in talking terms. She kept asking me for a coffee meet. But I kept dodging her. Finally one day I agreed to take her to the movie
KANK
next weekend. That was supposed to be our
1st meet
. All these months of knowing each other, we haven't met for a single second. So obviously I was excited. But a couple of days later, she wasn't so sure about going with 'just me' to movie. She said with an air of uncertainty that her family might keep her busy that weekend. And on Wednesday, she proposed to go for the movie along with her office gang. Such a turn off. I declined it outright.
Our first meet was thus delayed by a couple of months. It eventually happened on 1st week of Jan '07. My B'day - 7th Jan. It just gets better every year. This years was the best ever. For once, I was out of college, so didn't have to hide my B'day from others fearing B'day bums. Secondly, I had my money in my hands, so that I can celebrate my B'day the way I want - take friends to movie, throw party n stuff. That morning, I asked SS to join me for a movie @ Inox and she readily agreed. Another round of excitement. Meeting her for the 1st time, at last, that too on my B'day. That day was gonna be the best. When I saw her @ the entrance of Garuda Mall, waiting for me, I felt elated and for a moment it felt like as if some dream has come true. But, as usual with me, nothing went as planned. I had roped in two more friends of mine in this treat [ what d hell was i thinkin ...!! ], She was kind of displeased but didn't show it. All shows @ Inox were houseful, so we had to go for Rex. After that, instead of McDonald, went for CCD which was also packed. So had to settle for a Nescafe', where she found a leftover chewing gum stuck to her jeans. Brigade was too crowded to have a nice walk. When it was time to leave, I didn't drop her back to her home, which I could've. All in all, the day was different than what I thought of it. But still, The Best. 'Coz that was the only day that I spent time with her, face to face. We never met again. Within a week of our 1st & last meet, it has somehow dawned upon me.
Nonetheless, the following day - 8th Jan was no less dramatic. That was the most memorable chat session we ever had. When I look back at the chat script of that day and compare it with the reality of today, I wonder how much everything have changed. That day she had said
"I don't want arranged marriage. I'm tired of faking it all to impress my parents."
She was venting her anger against the rusty tradition with so much flare, and at times with childlike tantrums. In her angry mood too, she sounded so cute; and I felt like as if I was mending a sobbing kid demanding somethin. I was terribly worried 'bout her anyway. This kid, being forced to get married; just couldn't digest it. In few moments I was flaring up. Now I was venting my frustration against the age old traditions, arranged meets nd marriages and the 'Oh so HOLLY SAMAAZ'. Seeing me outburst, she kind of subdued and was just giving one linear comments after my 'pageful lecture'.
"Wow! u know elders so well.
I like ur view on this
exactly tht happened with me. u r very right
u will be a good parent for sure wow u understand parents so well!
So, gals - if U are looking for a 'good father' quality in your life partner, U know U've found one. :) SS can give U a certificate of that.
So, gals - if U are looking for a 'good father' quality in your life partner, U know U've found one.
After the debacle of her first arranged thingy, she was madly looking to find a guy of her liking. Some guy proposed to her, some butterfly naturalist sent her a letter, and there was some guy from orkut who had FWDed his proposal through his friend and she was considering it. Was she despo or what...!! I guess I shouldn't have said that to her. She lost her cool and told me
gooooooooooooooooooooooooooooooooooooooooooooooooooooooooooooooooooooooooooooooooooo. [with exact that many 'o's. ] i don wanna talk to u for a while.
That was the 1st time she almost made me feel like crying. Almost, 'coz I was in office @ that time, and can't actually cry. God gracious.
Anyway, she did try to mend the damage. Pinged me after lunch time. But still wasn't herself. Our convo was lacking its warmth. So I said
Environ is hot here. guess AC is not working properly. ping me wen u want. c ya
The following day we were fighting about how we could say such things to each other. Strings of
I guess, U don't understand me.
followed. And then suddenly she was like
"we r fighting! omg! I'm fighting with someone after a long time."

What....!! She was chirping. It felt so kiddish. Whatever, fighting sometimes is good I guess, 'coz now none of us was angry on the other one.
To be Continued. Read part-2 here
This series is now available in PDF format. Check this post.
---
---