Night Shift | Monday, August 13, 2007
Just a quick post. Haven't got much time to write in details. I've got my 1st night shift today. I'll be doing the night shift for whole of this week. Of course there's a holiday on 15th. So, it's just 4 days of night shift. From next week, it's back to day shift.
Frankly speaking, I don't have any problem with night shift. In fact, it's quite suited for me. I anyway go to bed at around 1 AM everyday [ ooopss, night ], when I'm in day shift. So, there's no problem in stretching it by another couple of hours. After all, I'm being paid a fair amount of allowance for it. ;)
Have taken some pics in office with my w810i cam today. It's already been decorated for iDay celebration tomorrow.
Will update this post with them next time.
. Updated as promised.
Anyways, it's kind of odd. 15th being a holiday, Our office [ and most others, I guess ] is celebrating the day on 14th, so that all employees can take part in it. There's flag hoisting ceremony also. The odd thing is, tomorrow is the iDay of Pakistan, not India. So, doing all these tomorrow is kind of unacceptable for me. They could've arranged for it on the perfect 15th. Those who wanna pay respect, they can come on 15th anyways. And if they don't wanna leave their cozzy bed on the 'National Holiday' and 'waste' it - well don't force [ read - allow ] them near the national flag on 14th either.
Closing Note : Last week [ or is it the week before that ...!!?? ] I was trapped in the office lift, which shook violently during its descend from 6th floor and came to an abrupt halt on 5n3/4 floor. Well, there was this rescue operation for us. Thank god we didn't die. Have a look at the pics below. They are shaky 'coz of the crowd then.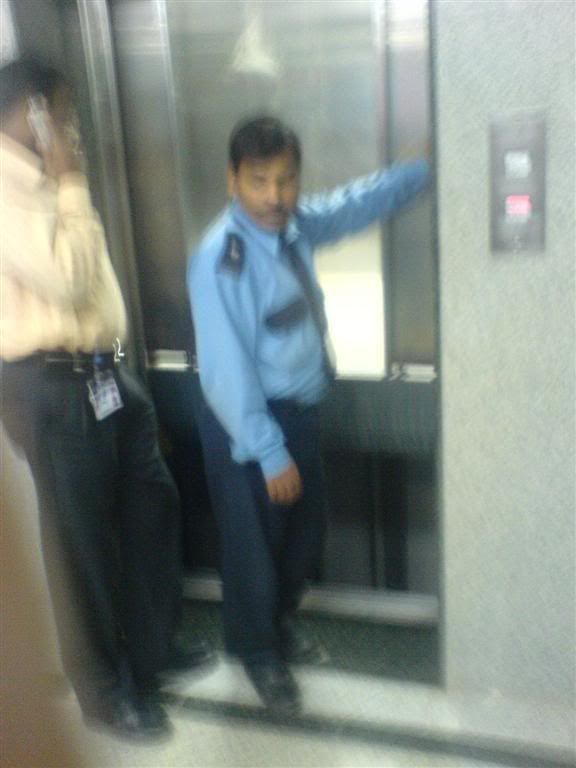 Labels: In My Life, Job
---
---