Harry Potter 7 : Repercussion | Thursday, July 19, 2007
Ok people, there's another huge news. Now if it is good or bad, it depends on your viewpoint. For me, it was a very bad and painful experience. My baby got hurt....
Thing is, I received a "
Copyright infringement notice
"
mail
from Google for my
last post
or more specifically, for the zip file containing the spoiler of HP7. All files in my
googlepages
account, where all my stylesheets and blog images are uploaded, were blocked stating "The bandwidth limit for this site has been exceeded". My site was totally ripped of its style.
This
is how it looked.
[Continued in
Full Post
]
My poor baby. I worked on it so much and now it was down in an instant. What do I do? Cry out loud or break something down ...!! Anyways, I removed that zip file link from my last post. Instantly my site came back to life. Yay. So, they were holding my site at ransom for this. But nope. Site was down again within half-hour. My next stop was
Google Analytics
which tracks my site's hit stats. The figures there were shocking as well as overwhelming. Given below is the comparison chart of my sites visit stat on 18th July and 19th July [ Today till 2 PM IST ].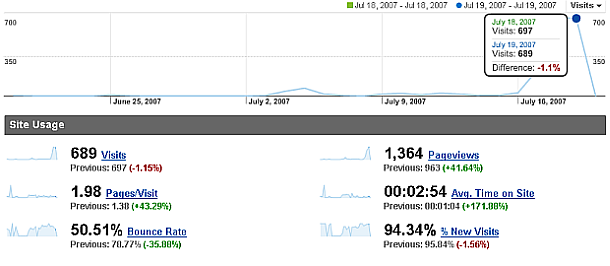 [ Click to view more details. Opens in new tab. ]
That stat is HUGE. Atleast, as compared to my site stats before this
HP mania
. So, this is what has brought my site down and not Google People...!! A sigh of relief. Uploaded all the relevant files to another server and brought my site back to life [ again ]. At last.
Anyways, this 'Notice Mail' is evidence enough that the spoiler I was providing was indeed authentic. Otherwise they need not bother about it. Add to that, there were these official news in today's newspapers -
Machinist
points out -
Whom does the Potter leak hurt? Not J.K. Rowling; nor her publishers; at least not monetarily. Anyone crazed enough about Harry Potter to endure reading photographs of the book is unquestionably going to buy at least one hardcover copy this weekend.
In all this 'bhagam bhag', U reader lost the chance of getting your hands on the spoiler. As asked by Google, I've removed it from my earlier post. So, if U've already downloaded / read it, good for U. Else, it's just two more days. Hold your breath till then.
Labels: Harry Potter, News, Series
---
---