60 Years of Independence | Tuesday, August 14, 2007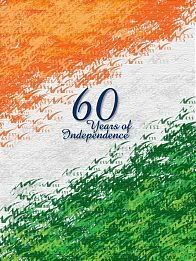 iDay celebration was scheduled in my office today. The actual iDay, the 15th Aug, being a holiday. They wanted to celebrate with everybody present. Well, I wasn't among those everybody; being in
night shift this week
. Came to office @ 6:30 PM, by which time all that was scheduled was done.
But was it really? Got to know that the
Flag Hoisting
ceremony has been called off due to expert legal advice. Makes sense, just as I'd said last night. Anyways, reached terrace to see what else was going on. To my utter dismay, very few people were left there and almost everything was or being wrapped up. As it was declared earlier, it was INDIAN ETHNIC WEAR DAY today. So, most people were in Sari [gals] and Kurta [guys]. Not me though. I was in a formal attire. That itself was my contribution to it, I guess; considering that anytime else, I sport at least one casual outfit.
[ Continued in
Full Post
]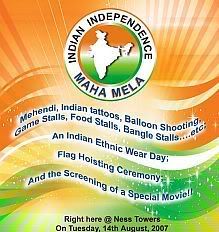 Anyways, some gals were still getting
Mehendi
done on their hands. There was Tattoo Painting and Food Stalls. And also 'balloon shooting', which reminded me of fairs in my hometown. There was this plan of screening a movie today. But seems that event has also been called off. Was hoping to see LRM once more. :(
All in all, this day didn't leave upto my expectations. What with all these 'Maha Mela' gung-ho...!! Maybe, 'coz I was late for it. But still....
Anyways, here are some pics from what I captured today -

[ Click to Enlarge ]
And here are some iDay special wallpapers from
santabanta
Labels: Celebration, In My Life, Job
---
---