Everything back to cricket | Thursday, September 27, 2007
India won the T20 world cup and the whole nation went crazy with jubilation. Mumbai streets got flooded with people and came to complete stand-still to welcome the national heroes. Rewards are being showered on the Men in Blue. And why not? The boys have fulfilled the dream of a nation after 24 years. They deserve a royal treatment.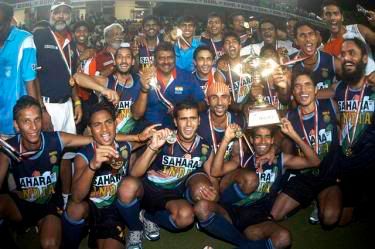 But what about a nation waking upto other sports post Shahrukh's "
Chak De India
" ...?? There was this hoop-la surrounding Indian hockey team winning the Asian Cup. That was like a movie story [or dream] coming true or better still - history repeating itself as that movie is said to based on true story. On the wake of 'CDI', this win was the second world cup victory after the
'83 victory
. But now everything is again back to cricket post this T20 conquest. Who among us now remembers the date on which India won the Asia Cup? But ask anybody the individual runs scored on the final of T20 - and they'll start reciting the whole scoreboard. Hockey faded from our minds as quickly as it had surfaced. SRK and 'chak de' are now not associated with hockey but cricket. 'SRK cheering and hugging the Men in Blue after their win' - this footage is being aired again n again on news channels. But he wasn't there at the Asian Cup final. So, the collective assumption of India is - SRK is endorsing Cricket. 'Chak De' is now cricket's motivating slogan - just as 'Come on India, Dikhado' once had been. Does the Bowl-out between India-Pakistan remind anyone of the finale's scene from 'CDI'? I guess not.
[ Continued in
Full Post
]
The national hockey team is genuinly miffed about all this gung-ho. While all the politicians are busy showering cash, rewards and other perks on the cricketers, the hockey team is pushed back into the darkness. Did they receive even an iota of the welcome that the cricket team got that immobilized Mumbai? Leave aside the rewards. After drawing flak from several sections for their step-motherly treatment, the state governments are 'considering' rewarding these hockey players. What a shame....!!! Why do we [specially politicians] always need an external source to jerk us up to our senses? But are they really awake now? Govt.s are gonna reward the hockey team only 'coz they 'asked for it' and to ward off the outcry. Are they really thrilled and proud of their success? And the public making the outcry - are they genuinely interested in Hockey? Are they gonna watch any upcoming hockey match with as much enthusiasm as they show in a cricket match? Ask yourself.
And if you ask me, I'm also not interested in hockey or most of the other sports either. Then why am I being so much touchy and vocal here? Well, that's because I'm an Indian. That's what we do. Begani Shaadi mei abdulla deewana. or - Behti ganga mei haath dhona. If everybody is talking about something and you don't, you feel like left out and idiot. Even if we don't know what's all the fuss is about, we just love to raise our voices and make a 'contribution' to the cause. And that's the end of what we do; make noise and disperse. We don't see to it that the cause is met. "At least I did what I could. Rest is upto the leaders/politicians". Wow. We just look upto the sufferer with eyes of pity and wish that they get a better deal. Same here regarding the Indian hockey team.
We are Indian only on 1 occasion - when we are at war with Pakistan - either on front or on cricket field.
The main reason for their ignorance is, no-one and nothing is Indian in India. There are Bangali, Bihari, Gujrati, Madrasi and so on; but no one's Indian. We realize that we are Indian only on 1 occasion - when we are at war with Pakistan - either on front or on cricket field. Cricket team is the 'Indian' team. Indian hockey team? What's that? Is anyone in it from my state? Such is the state of affairs here 'coz such is our upbringing. And it's not that we look upto cricket as a great sport. We follow cricket 'coz of its glamor quotient. Glamor is the reason why now-a-days some people are taking note of Tennis, thanks to Sania. Suddenly a lot of people are interested in tennis, or better still - pretty faces and delicate curves on tennis court. Apart from some genuine die-hard F1 racing fans, how many follow F1? Karthikeyan was/is having a though time finding sponsors to finance his F1 dreams. Anyone wanna talk about football?
The sudden interest in Hockey was brought about by '
Chak De India
'. I'm baffled by how movies drive our outlook in India. It's like we are all blind and movies are leading us cross the road. When
Rang De Basanti
released, we all took up protesting against 'political and judicial monarchy'. Protest against Reservation and Jasica Lal case are testimony to that. After '
Lage Raho Munnabhai
' - it was time for Gandhigiri madrush. It took the whole India one movie to remember the basic foundation of the nation. And now 'Chak De India' to value Hockey or other sport forms in general. But as always, the flame is doused within a couple of months' span. In the latest case, the fade out was accelerated by T20 extravaganza. So, everything is 'back to normal' - as it always has been.
Related Posts
Team India's Royal homecoming
India wins T20 Final
Gals don't watch cricket
Team India Video
World Champ India
Labels: Poll, Ponder, Social Issues, Sports
---
---